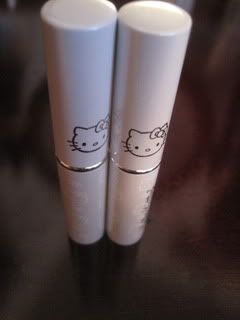 Hello Honey Bees,
I'm back
! I have returned from my vacation in Mexico only to come home to a stack of mail and a highly anticipated
Sephora
box! The products I had ordered from the
Hello Kitty for Sephora
private event sale have finally arrived! Two
Sweet Gloss
sticks arrived in
Pinkie
and
Pink Bow
and boy was I ever excited to try these babies on! What was described as a
lipgloss in a lipstick tube
, I was excited to put these to the test. The packaging is of course the
cutest
thing I've laid my eyes on. The stick is slim, almost reminiscent of
MAC's slimshine stick
s, and decorated in with the shiny
Hello Kitty
insignia. The colors I ordered were
Pinkie
, a fuschia pink and
Pink Bow
, a softer and cooler bubble gum pink. Both looked pigmented and rich with color in the tube. On the lips however, this Kitty
failed
to deliver. Not only were both products completely
devoid of any shine
, but the gloss/lipstick felt
thick and heavy
on the lips with
very little pigmentation
. I am holding back on calling these
"glosses"
since there is nothing remotely glossy about these. This was not at all what I had expected from
Hello Kitty or the Sephora brand
. To my disappointment, these sweet glosses are a giant
FAIL
and would be better off as gifts to my
2 year old niece
. The saving grace of these products is the
two-cute-for-words packaging
and at
$16
a piece is not worth it in the least. The pictures I took of the swatches didn't even translate well into pictures! Shell out a grade A product
without the gimmicks
and save us makeup fiends a lot of time and money.
Bottom line?
Skip
this kitty and
save your cash
.
Meow.