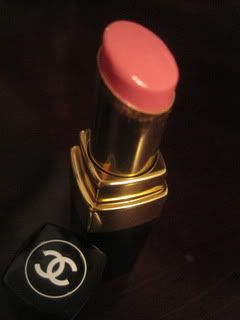 If you've been a loyal blog follower of mine, you may or may have noticed my addiction to Chanel lipsticks. I can't help myself, I am obsessed. I was like a kid in a candy store when Chanel launched it's new line of
Rouge Coco Shine
lipsticks, a light and moisturizing lipstick that finishes with the shine of a gloss. I picked up
Boy
in early February when it was released as a preview for the line (review
here
) and grabbed
Evasion
once the line hit the shelves (seen
here
).
Chance
is the latest addition to my Rouge Coco Shine family. The color is a soft baby pink that takes a few swipes to really turn opaque on my lips. If I had to compare it to something else, I would say it's Viva Glam Gaga's softer and more gentle sister. The pictures do the shine no justice as this lipstick really does not need a gloss. For a really perfect lip, I paired it with NARS Jilter Love lipliner. My only gripe about these lipsticks is that the wear time is quite short (I'd be lucky if I got a whole 3 hours without having to reapply) Below is my LOTD (lip of the day) using
Chanel Rouge Coco Shine in Chance
as well as the swatches of my other two Rouge Coco Shine lipsticks,
Boy
and
Evasion
. Have you picked up any of these lipsticks? Leave your thoughts in the comments.