Who would have guessed that a
cartoon cat
would be such a
beauty icon
? Ms. Kitty does it again with the launch of her own
Sephora cosmetic line
to hit stores in January 2011.
Sephora Beauty Insiders
got a sneak peak at the new makeup line with a private
online sale
this past weekend, showcasing some of the line's products like
lipsticks, lipglosses, a brush kit (which sold out quite quickly), a bedazzled mirror and even a shower cap
. If you couldn't tell, I happen to be a big fan of
Hello Kitty
and got a quick in-person preview of the tools (including the brushes and mirrors) at the
Hello Kitty Sanrio Convention
in Santa Monica last month. With the huge success of
Hello Kitty for MAC
, I think the Sephora line will do
very well
. I picked up a few items during the presale and if the quality lives up to the
Kitty hype
, I'll have to pick up
more
! Are
you
excited for
Hello Kitty for Sephora
?
What will you be picking up
?
Leave your thoughts in the comments.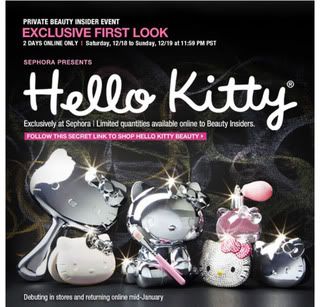 image courtesy of Sephora.com