After the success of
Urban Decay
's wildly popular Naked palette, Naked 2 is hot off its heels and the shelves!!! I had to fight a little to get this palette since crazy makeup lovers like me kept crashing the Urban Decay website! The palette is packaged in a tin similar to its predecessor, and just a touch heavier. While original Naked owners received the eyeliner duo with their palette, Naked 2 (like new Naked palettes) comes with an eyeshadow brush. The 12 shades of neutral shadows are a stunning array of greys, browns, and taupes, but compared side by side with the original Naked palette, it doesn't seem to stack up. Don't get me wrong, 12 full sized shadows for $50 is a phenomenal deal. The shadows, typical of Urban Decay, are outstanding quality. The palette, though "neutral", pulls warm- although the colors would flatter cool tones as well. I am not slamming the palette. In fact, there are standout colors in this palette including Snakebite (a bronze gold) and Pistol (frosted taupe). Though the matte colors in the palette are borderline chalky (Tease and Blackout), the palette is still worth more than a bang for your buck and a must have for neutral lovers. However, if you own the orignal Naked palette, you could skip Naked 2 without feeling a tinge of guilt. The two palettes are far too similar to need both. The brush accompanying the palette is great for blending and the lipgloss (though skipable) is a nice shade. If you missed out on the orginal palette, this is definitely a chance to satisfy your need for an awesome neutral palette for an amazing price. The quality of these shadows will not disappoint you.
Bottom line? The palette is beautiful and worth the money, but everyone knows the sequel is never as good as the original.
Pictured below is my FOTD using Verve on the inner corners and browbone, Snakebite on the lid, Pistol on the crease and Blackout in the outer v. The palette is currently sold out on Urban Decay's website and is slated for a February 2012 release to retailers. Are you planning to pick up the Naked 2 palette?
Leave your thoughts in the comments.
Foxy, Half Baked, Booty Call, Chopper, Tease, Snakebite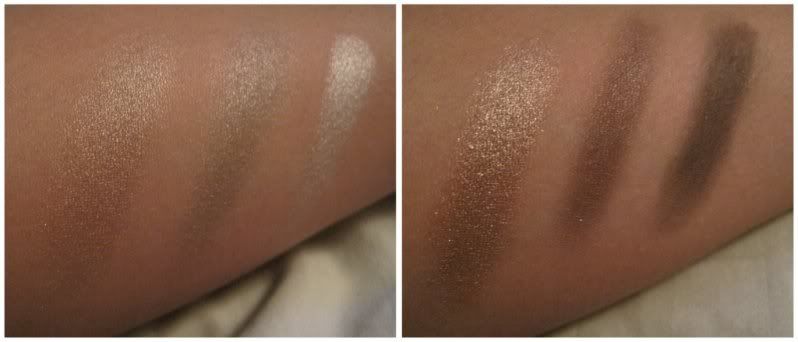 Suspect, Pistol, Verve, YDK, Busted, Blackout
**UPDATE**

Urban Decay's Naked 2 is back in stock on Urban Decay's website!!! Grab one while you can ladies!!! Click HERE to pick up your Naked 2!